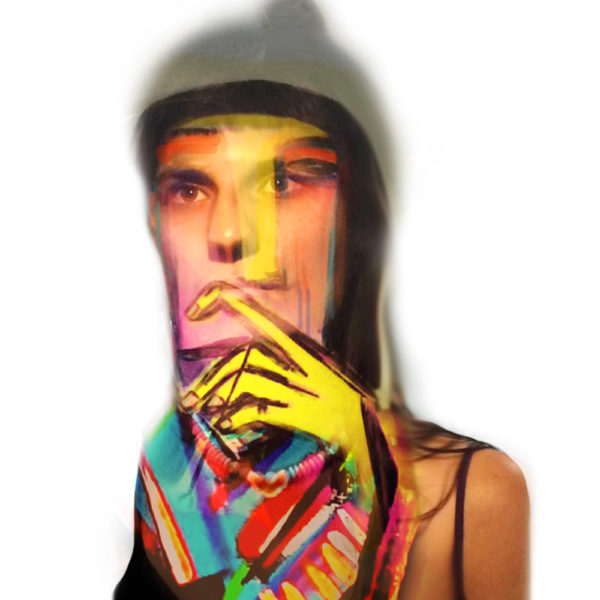 Rita Grancho
Plastic Artist
Rita Grancho (1992), graduated in Plastic Realization in Performing Arts from the Escola António Arroio and in Theater from the Universidade de Évora, is a plastic artist born in Lisbon. She improves her techniques in the deconstruction of bodies and faces, creating masks in search of other realities within her feminine universe. The training and experience in Theater, with special interest in the mask technique, influence her work and merge with her stroke and strong colors that energize her work and characterize her own style. Her intuitive painting reviews and reveals emotions and experiences that pass through body and mind, using them as reflections of a sense of observation and self-knowledge. Rita Grancho is inspired by the constant connection between the topics of human and personal existence – most of her works are defined as self-portraits or portraits of the world in which she lives or speculates to live.
Specialized in acrylic painting, she extends her technique to mural painting or to set design for Theater and Performance, drawing on all kinds of materials in the creation of multidimensional forms. She intends to recreate experiences and moments of indoor and outdoor space in physical and artistic spaces.
Since 2018, Rita Grancho has been developing solo and group exhibitions in several artistic and cultural spaces, both national and international. In 2020, she joined the collective of artists of Goela Association, where she has her atelier. With an interest in sharing all her experience of technique and creation process to stimulate the continuous growth of the community she is part of, she organizes and directs extracurricular classes and workshops of artistic expressions for children and adults.
RITA GRANCHO'S POSTER